Australian International Aerospace & Defence Exposition 2019 - Avalon Airport
Update: 2019/11/18  by Rob Hynes / CHK6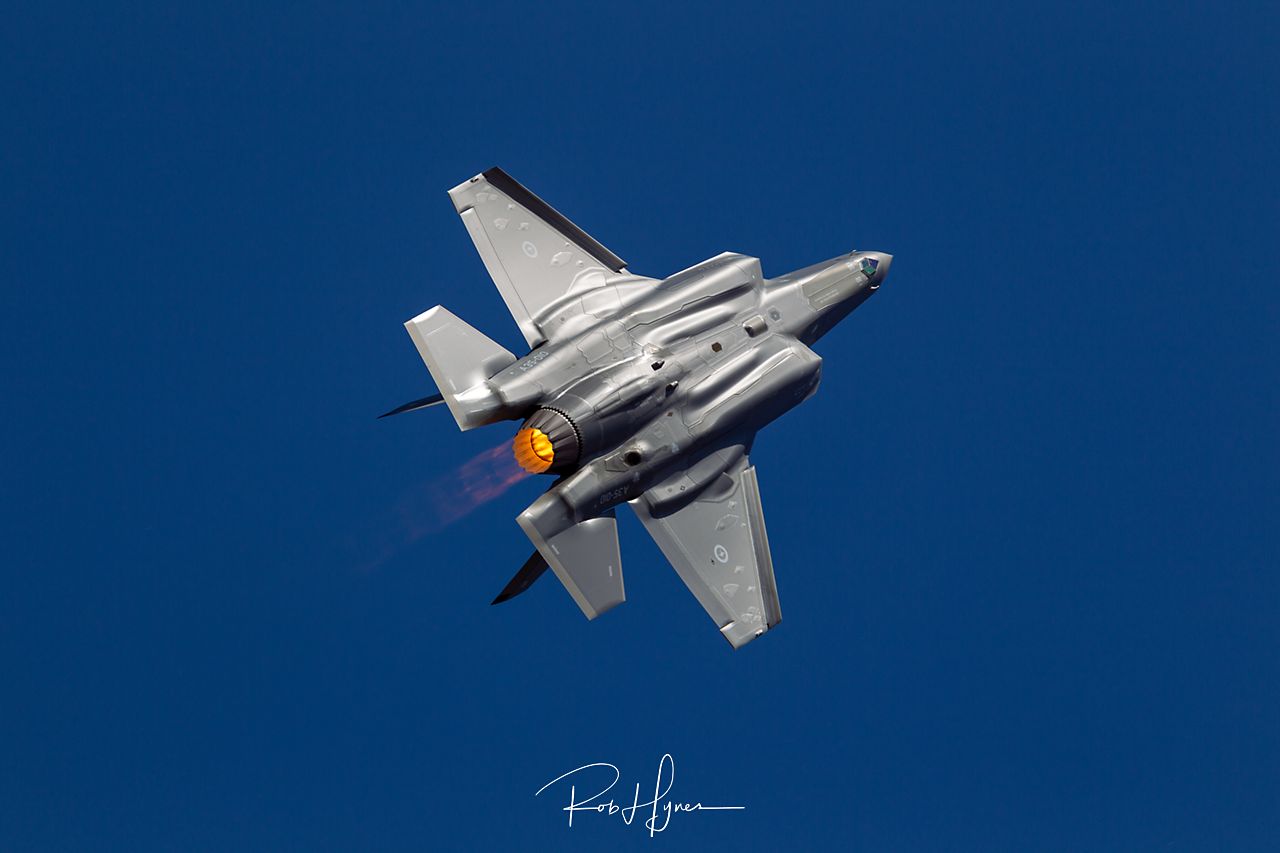 From 26th February to 3rd March the Australian International Aerospace and Defence Exposition (AIADE) and AIRSHOW 2019 were held at Avalon Airport, Victoria, Australia. As with previous shows, the first three days were primarily devoted to the military and commercial aspects of the aviation industries with exhibitors displaying the very latest in aviation high-tech. From Friday afternoon, the gates were opened to the general public, however the + 40 Celsius (104 Fahrenheit) temperatures did manage to deter some from attending with numbers slightly down at just over 132,000 spectators in attendance on the public days. In an effort to provide relief from the oppressive heat organisers brought the flying program forward by one hour on the public days, this turned out to be a very wise move indeed.
As always, Australian Defence Force (ADF) participation was very strong, particularly as the show is utilised to recruit perspective future pilots and aircrew into a possible new career in the ADF. On each of the public days an ADF Showcase presented an hour-long air-ground battle scenario where troops were inserted by Royal Australian Air Force (RAAF) Lockheed-Martin C-130J HERCULES II and Royal New Zealand Air Force (RNZAF) C-130H HERCULES tactical transports. With two Australian Army Aviation (AAVn) Airbus Helicopters TIGER Armed Reconnaissance Helicopters (ARH) providing overwatch, troops then secured the battle area while RAAF Boeing F/A-18 HORNET fighters administered the final blows to the bad guys. Ground forces were then extracted by two army Boeing CH-47F CHINOOK Heavy Lift Helicopters (HLH). Overhead, battlespace command and control was provided a circling Boeing E-7A WEDGETAIL Airborne Early Warning & Control (AEW&C) aircraft of No 2 Sqn RAAF.
As one of the most controversial combat aircraft ever developed, it was the Lockheed Martin F-35A LIGHTNING II Joint Strike Fighter (JSF) that a lot of people came to see. Two F-35A JSF, (A35-009 and A35-010), were present providing brief but very impressive solo handing demonstrations and also taking part in formation flypasts in concert with a USAF Lockheed-Martin F-22A RAPTOR along with two RAAF F/A-18 fighters, a really nice touch.  Australia has 72 F-35A on order, the first two were delivered to RAAF Williamtown in early December of last year with another 10 due to be delivered by the end of 2019. The F-35A is a fifth generation, single-seat, single-engine multi-role fighter that incorporates stealth technology to perform its ground attack and air superiority missions. The F-35A will replace the extant fleet of F/A-18 Hornets nearing the end of their life in RAAF service. Canada will be acquiring 18 of the retired RAAF Hornets, of which the first two have recently been delivered to Canadian Armed Forces Base (CAFB) Cold Lake.
Other branches of the ADF were equally well represented at AIRSHOW 2019, particularly by Australian Army Aviation with the aforementioned TIGER and CHINOOK helicopters. TIGER ARH was acquired to replace army's aging fleet of aging Bell OH-58 KIOWA reconnaissance and Bell UH-1H HUEY helicopter gunships. TIGER ARH is an adaptation of the French TIGER Hélicoptère d'Appui Protection (HAP or Support/Escort Helicopter) however the Australian variant incorporates upgraded avionics, engines and US made AGM-114 HELLFIRE II missiles as it primary weapon system.  Under the ever-watchful eye of a circling an RAAF Boeing P-8A POSEIDON Multi Mission Maritime Aircraft (MAA), a Royal Australian Navy (RAN) Sikorsky MR-60R (Romeo) SEAHAWK Multi-Mission Helicopter (MMH) demonstrated the lowering and retracting its AQS-22 ALFS dipping sonar, providing a great demonstration of a "Hunter-Killer" team in action that rounded out the military rotary wing component of AIRSHOW 2019 nicely.
This year's show was a significant milestone for the RAAF aerobatic team THE ROULETTES as it was the final time their famous red and white Pilatus PC-9/A aircraft were to be flown, this occasion also heralded in their new mount in the form of the Pilatus PC-21 complete with their new and (arguably) very striking paint scheme. The PC-21 is an advanced dual-seat trainer powered by a single Pratt & Whitney Canada PT6A-68B turboprop engine producing 1,600shp. The RAAF has ordered 49 of the type with first 10 already delivered. The PC-9/A will be phased out of RAAF service by the end of 2019. As always, USAF participation was particularly strong with Lockheed-Martin F-22A RAPTOR, Boeing C-17A GLOBEMASTER III, Boeing P-8A POSEIDON, Boeing B-52H STRAOFORTRESS and Boeing KC-135 aircraft all in attendance. While the RAPTOR demonstration was not flown by a display pilot, its demonstration highlighted some of the impressive capabilities of this very formidable fifth generation fighter. Appropriately, this year's F-22 commentary was provided by RAAF exchange pilot, FLTLT 'Ando' Anderson who is currently serving with the 90th Fighter Squadron based at Elmendorf AFB Alaska.
One very different aspect of this year's show, and something greatly appreciated by the audience, was a series of combined formation flypasts featuring eclectic mixes of RAAF Multi Role Tanker Transport (MRTT), Bae HAWK 127, F-35A LIGHTNING II, F/A-18A/B CLASSIC HORNETS, F-18 GROWLER and USAF F-22 RAPTOR aircraft. A demonstration of air to air refuelling was also presented by an RAAF Airbus KC-30A (A330-200) MRTT with two F/A-18 Hornets fully connected while performing low passes. Arriving on the Thursday was a Northrop Grumman Block 40 RQ-4 GLOBAL HAWK High-Altitude Long Endurance (HALE) Unmanned Ariel Vehicle (UAV) flown to Avalon from San Antonio, California via Guam by operators located in Grand Forks, North Dakota USA. History was made as this was the first time an autonomous aircraft has been landed at an active airshow. The RQ-4 in an Unmanned Surveillance aircraft with a wing span greater that a Boeing 737 and a range in excess of 22,779 km with a service ceiling of 18,000m.
Military heavy lift aircraft were also very well presented in the form of RAAF and USAF Boeing C-17A GLOBEMASTER III transports with both aircraft providing great demonstrations of their Short Take-off or Landing (STOL) capabilities. Two very rare and interesting visitors to AIRSHOW 2019 were Japanese Air Self Defence Force (JASDF) Kawasaki C-2 and Royal Malaysian Air Force (RMAF) Airbus A400M military transports. The C-2 has been in Japanese service since June 2016 and along with the A400M were at AIRSHOW 2019 to demonstrate a possible replacement for New Zealand's ageing fleet of Lockheed-Martin C-130H HERCULES aircraft. An RAAF Leonardo C-27J SPARTAN Tactical Transport also performed several low passes demonstrating its considerable STOL capabilities. The C-27J has replaced the venerable De Havilland DH-4 CARIBOU in RAAF service. Our friends from New Zealand also provided a great demonstration of tactical short field landings and take offs with their C-130H HERCULES. The fact that this 57-year-old aircraft is still in operational service is truly a testimony to the diligence and professionalism of the RNZAF maintenance teams.  The Kiwi HERCULES was only later to return to drop the RNZAF parachute display team KIWI BLUE. The popular team thrilled the audience with a precision parachute jump all landing perfectly right in front of the crowd line. 
Warbird enthusiasts were not neglected at AIRSHOW 2019. Once again, the Temora collections impressive range of military aircraft of yesteryear were in attendance which included their wonderful Lockheed HUDSON, Supermarine SPITFIRE MK XVI, CAC CA-13 BOOMERANG and a beautifully restored Vietnam War era Cessna A-37B DRAGONFLY, also present was a beautiful C-47 "GOONEYBIRD" flown by Jeff Trappett and a pristine Curtis P-40N KITTYHAWK flown by Allan Arthur which completed the warbirds component of AIRSHOW 2019. Unfortunately, notably absent at this year's show was the Historic Aircraft Restoration Society (HARS) collection with their superb Lockheed L-1049 SUPER CONSTELATION, Lockheed PV-2 NEPTUNE, Consolidated CATALINA and De Havilland DH-4 CARIBOU. Hopefully, we'll see them flying again at AIRSHOW 2021.
The JETWORKS display team provided a very tight demonstration of precession flying in their two SIAI-MARCHETTI S.211 jet trainers. The synchro-pair consists of two ex RAAF aircrew, Steve Gale and Steve Baker, who delighted the crowd with a stunning display of speed and agility with one aircraft sporting Republic of Singapore Air Force (RSAF) training colours. The S.211 was replaced in RSAF service by the Pilatus PC-21. SCANDANAVIAN AIRSHOW and the CATWALK SKYCAT wing walkers provided a very colourful sight with two spandex clad girls striking poses on the wings of their Grumman G-164A AG-CAT bi-plane while the pilot performed aerobatic manoeuvres. The flamboyant Swedish team delighted the crowd with their daring antics being secured to the aircraft with nothing more than Velcro fastenings.
Australian National Aerobatics Champion, Paul Bennett and his SKYACES team also thrilled the crowd with their usual high-energy aerobatics featuring a very colourful WOLF PITTS PRO and two PITTS S1-SE aircraft. The display culminated with the detonation of pyrotechnics providing a very dramatic (and loud) background to Paul's very low knife-edge pass.
During the Friday night show, the audience were presented with a spectacular night show featuring fireworks and a flare drop by RAAF C-130J and Army TIGHER ARH aircraft, there also was a stunning laser and light show from the CATWALK SKYCAT AG-CAT making for a great evening and wonderful way to see in the next two days of aerial action.
Verdict:  Under the thyme of "Technology for Tomorrow" AIRSHOW 2019 well and truly fulfilled its promise. AIRSHOW 2019 gave an amazing glimpse into the future of aviation and with the latest generation of combat aircraft, record breaking autonomous surveillance aircraft including the very latest in military and civilian aviation hi-tech. AIRSHOW 2019 certainly had something for everyone and with the next show commemorating the 100th anniversary of the Royal Australian Air Force, it is sure to be a very special event indeed and something not to be missed.
Checksix-Online would like to thank Tom Bennett, Laura Lane, Sandy Paterson and the AIRSHOW 2019 media team for their wonderful support during the show.